What's New
Astoria Investor Forum-2016 will be organized on December 7-8 2016.


Take advantage of Early Bird registration (the offer ends on November 1):

The two full days of the AIF 2016 programs will focus on Growth strategies on Day One and Income strategies on Day Two. Growth strategies includes PE, Growth Capital and Value-Add investing in Infrastructure/Private RE. Income strategies include Private Debt (Mezzanine & Credit) and Core/Core+ investing in Infrastructure/Private RE.

A Concurrent Workshop Hosted by Invest Europe

There will be a concurrent workshop hosted by Invest Europe, formerly known as the European Private Equity and Venture Capital Association (EVCA), from 9am on 8th December followed by one-on-one meetings.

What is Astoria Investor Forum
Since the launch of the Astoria Private Equity Forum in Japan in 2002, Astoria has become the most recognized name among LPs in Japan as the foremost organizer of investor education seminars. Now renamed as the as the Astoria Investor Forum (AIF), we have widened the scope of the agenda to include such topics as Infrastructure and Private Debt in addition to Private Equity in the conference program.

Who will attend?
We expect over 200 delegates at our next conference on December 7-8 2016. The AIF continues to be the premier destination for investors and managers in Japan looking to find out more about the latest trends and issues, and of course, build new, meaningful networks. This year we also expect to see a lot of GPs attending the AIF as we are witnessing launching of investment activities by a number of very large financial institutional investors in Japan. Astoria is an investor facing organization and we have an excellent track record of hosting conferences where a majority of delegates are LPs and/or their fiduciary firms.


For more information please download the conference brochure/program from the link below: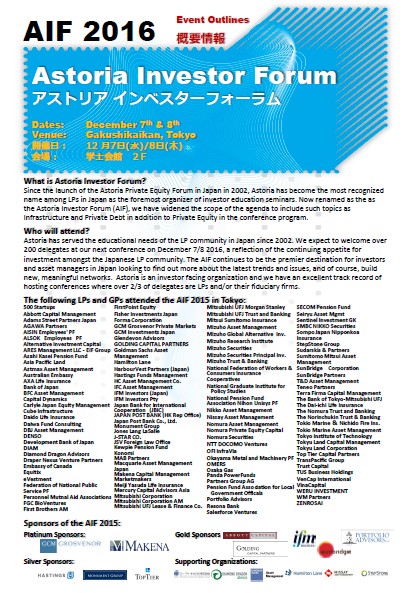 Date Organized

:

12/7-8/2016 at Gakushikaikan (National University Almini Club)

Types of Companies Who Attended
:
Financial Institutional Investors, Corporate and Public Pensions, Fiduciaries such as Asset Management Cos and Trust Banks, Placement Firms, Consultants, GPs
Brochure /Program
:

Please download from the link below:

>>Conference Brochure/Program
>>To review Events page, press this link

Recent Event:
Astoria Investor Forum-2015 was successfully concluded on October 6/7, 2015. Over 200 participants with majority of attendants were representatives of institutional investors from Japan participated in this conference.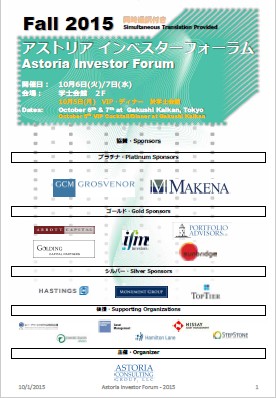 Date Organized

:

October 5/6, 2015 at Gakushikaikan (National University Club)

Types of Companies Attended
:
Financial Institutional Investors, Corporate and Public Pensions, Fiduciaries such as Asset Management Cos and Trust Banks, Placement Firms, Consultants, GPs
Brochure/Program
:

Please download from the link below:

>>Conference Brochure/Program: