What's New
Astoria Investor Forum-2016 was organized on December 7-8 2017.


There will be a post conference report released soon.

What is Astoria Investor Forum
Since 2002 Astoria has become the most recognized name among LPs in Japan as the foremost organizer of investor education seminars. Now renamed as the as the Astoria Investor Forum (AIF), we have widened the scope of the agenda to include such topics as Infrastructure and Private Debt in addition to Private Equity in the conference program.

Type of delegates in attendance
Astoria has served the educational needs of the LP community in Japan since 2002. We expect over 200 delegates at the next conference, which is a true reflection of the continuing appetite for investment amongst the Japanese LPs. The AIF continues to be the premier destination for institutional investors and asset managers in Japan to learn about the latest investment trends and issues and, of course, to build new meaningful network in the industry. Astoria is an organization with strong interest to foster LP community in Japan, and we have an excellent track record of hosting conferences where over majority of delegates are LPs and/or their fiduciary firms.


For more information please download the conference brochure/program from the link below: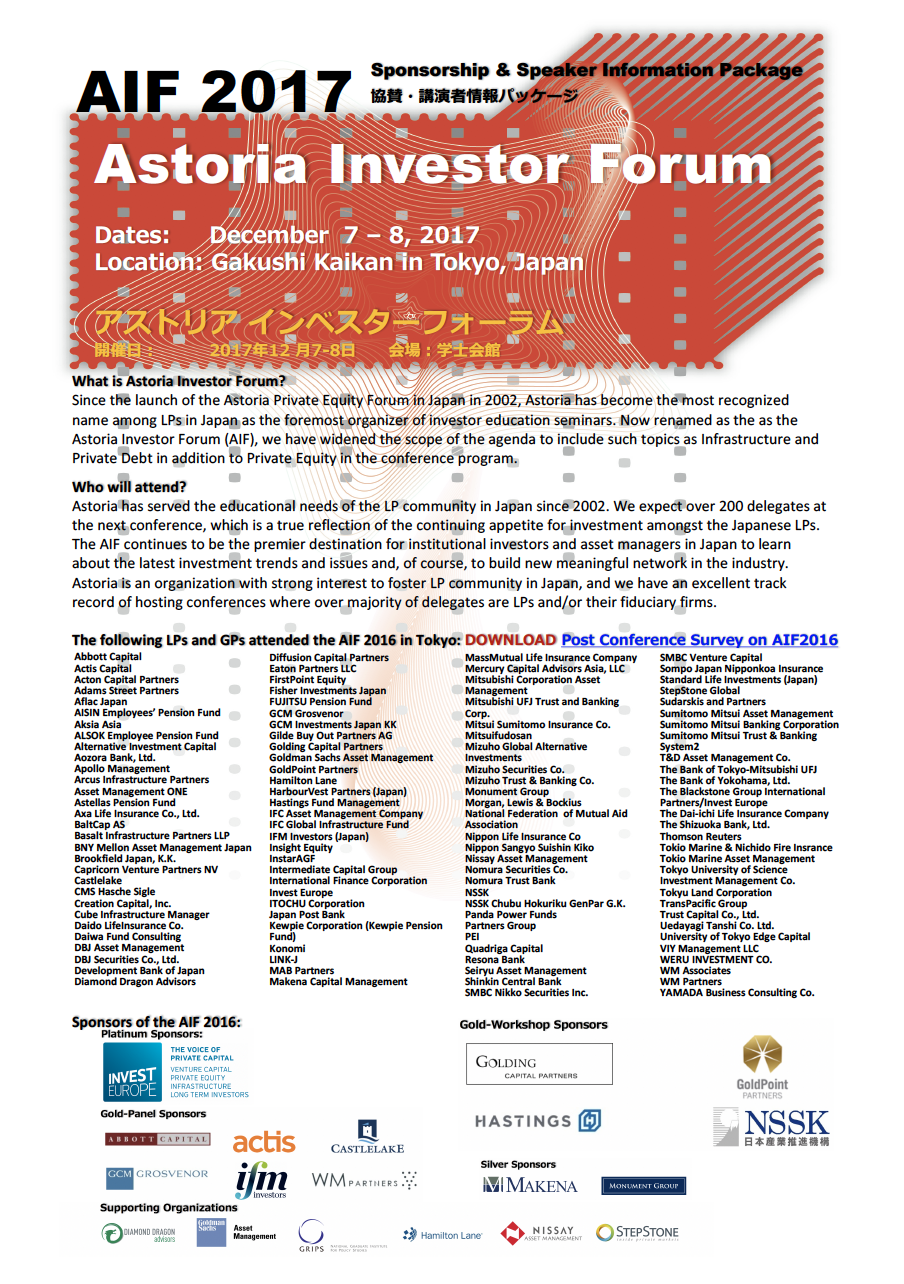 Date Organized

:

12/7-8/2017 at Gakushikaikan (National University Almini Club)

Types of Companies Who Attended
:
Financial Institutional Investors, Corporate and Public Pensions, Fiduciaries such as Asset Management Cos and Trust Banks, Placement Firms, Consultants, GPs
Brochure /Program
:

Please download from the link below:

>>Conference Brochure/Program
>>To review Events page, press this link

Recent Event:
Astoria Investor Forum-2016 was successfully concluded on December 7-8, 2016. Over 200 participants with majority of attendants were representatives of institutional investors from Japan participated in this conference.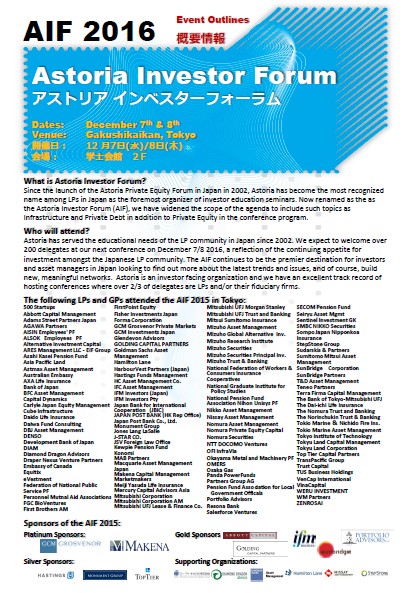 Date Organized

:

December 7-8, 2016 at Gakushikaikan (National University Club)

Types of Companies Attended
:
Financial Institutional Investors, Corporate and Public Pensions, Fiduciaries such as Asset Management Cos and Trust Banks, Placement Firms, Consultants, GPs and a delegation from Invest Europe
Brochure/Program
:

Please download from the link below:

>>Conference Brochure/Program: